GTBank Fashion Weekend, which holds this Saturday, November 11th, and Sunday, November 12th, 2017, runway show for day 2 will feature internationally designers who will showcase some of the season's best collections in the world of fashion.
The designers to showcase for Day 2 of the event are: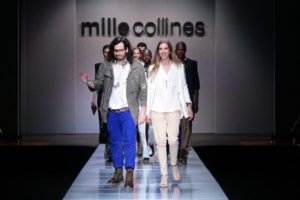 Mille Collines – The mille collines journey began in Barcelona, Spain with Ines Cuatrecasas and Marc Oliver. Fashion designers by training, the two were eager to engage in something bold, creative, and adventurous. A 2008 trip to Rwanda and an introduction to Antoinette, a local dressmaker, ultimately led to Marc and Ines moving to Kigali where they developed their first collection in partnership with Antoinette. A year later, mille collines was born and soon grew into full-fledged fashion Atelier. Today, it is fully owned and operated by the Kigali team that helped build mille collines. In partnership with the Atelier and with a renewed focus on design and retail the mille collines ethos remains unchanged– blending the creativity, strength and culture of the African spirit with ever evolving global trends. The brand's attention to detail and passion for telling beautiful stories will continue to shine through every mille collines product.
Julien Macdonald – he was named " British designer of the year", and on 15 March 2001, was appointed as chief designer at Givenchy (Alexander McQueen's successor).His atelier is at Old Burlington Street, London.His contribution to fashion was rewarded in 2006 he was awarded an order of the British Empire by the Queen. His slinky and shimmery gowns have made him a favourite amongst the likes of Cher, Madonna, Beyonce and Shakira.
Ladunni Lambo – She is a creative fashion designer, best known for her infusion of aso-oke into modern styles. She launched her debut collection in 2016 and has since made appearances at international fashion shows including London Fashion Week. Her brand has been featured on international and reputable fashion websites and worn by prominent personalities including the renowned novelist Chimamanda Ngozi Adichie.
Ejiro Amos Tafiri – She was born in the city of Lagos .Her love for fashion started at tender age of 3 years through the influence of her grand mum who was then her tailor. She was expected by her parents to study medicine but she opted for clothing and design. Ejiro started her brand in the year 2010. In the year 2015, E.A.T brand called "The Madame",a collection of her master piece was showcased at Native & Vogue Port Harcourt Fashion Week and Dakar Fashion Week and Kenya Fashion Week respectively.She recently set up the Ejiro Amos Tafiri School of Design (EATSDN), a Lagos-based institution that trains fashion industry hopefuls, providing students with intensive training in aspects of fashion such as textile studies, business of fashion, fashion illustrations and so much more that will guide their paths in pursuing careers in fashion.
LaQuan Smith – Smith was born on 30 August 1988, in Queens, New York. As he grew up he developed a passion for fashion and design but really got into it at the age of 13 when his grandmother passed on her old Singer sewing machine for him to use. From there he began regularly designing and creating garments. In 2007 he graduated from high school and from there he began his career in fashion.
In February 2010, he made his New York Fashion Week debut at the Society of Illustrators  headquarters in Upper East side . The audience for Smith's 'Water Goddess' show included fashion press, buyers and celebrities. Specifically,He later presented a Spring-Summer Collection in September 2010.