The year 2017 is about to end and this December, there are lots of events and shows you wouldn't want to miss out on; from Art exhibitions,Fashion exhibition,Music festivals, Pop-up events, Parties, Raves and more all in Lagos in the coming weeks.
  COPA CABANA;
FTC presents the COPACABANA '17 with special guest appearances
Date:Thursday 21st December, 2017
Time : 12pm
Venue: Tickle bay, Lekki
Fee: 3000 naira online tickets || 4000 naira at the door
NEW HAERVEST FESTIVAL POP-UP:
New Haervest 
is a music and fashion pop up 
festival that aims to create a space for the new young African generation to come together and embrace the beauty of diversity, appreciate one another and enjoy creative aesthetics, music, fashion, live performances and more.The Festival is also aiming to use its platform to give up and coming artistes the opportunity to display their creative talents.
New Haervest believes in order for Africa to propel forward in the many different creative fields whether it being, fashion, music or art, young adults need to know each other and interact, this way talents can be shared and nurtured. New Haervest will serve as a place for young creatives to meet and get to know each others creative profession and collaborate. The festival will cultivate an environment where young people wouldn't feel judged based on who they are, social status or background; it is a place for true freedom. The festival is a melting pot where people can come and shop, dance, talk and network, where young Nigerian people can see and feel the essence and beauty in the New Generation Nigeria.
HIGHLIGHTS:
Shopping (New Haervest 

90's inspired 

festival collection)
Visual asthetics
90's 

themed Music. Hip Hop, Grime, Afrobeats and House. Straight Bangers Throughout (Its going to be a Madness, We finna turn up for real. Come in anything comfortable and free your spirit animal)

Vintage Photo booth can create iconic moments with polaroids (Squad moments)
Food, drinks, Candy floss and more
Live Performances
VIVENDII AND FRIENDS EXHIBITION:
Modus Vivendii hinted a Vivendii and Friends exhibition; "A Storefront Presentation"  at the MILIKI Lagos soon.  Free RSVP : info@modusvivendii.com
Although not much has been told about the date but is hints at an end of the year . Stay tuned for more info.
SEVERE NATURE " BIRDS OF PARADISE" POP-UP:
Severe Nature will be hosting pop up to announce the late release of ' Birds Of Paradise' at  The Urban nest at The Style loft box ;No2 Alexander road ikoyi , the exclusive drop point of the release is set for the 29th December 2017.
PALM-WINE MUSIC FESTIVAL: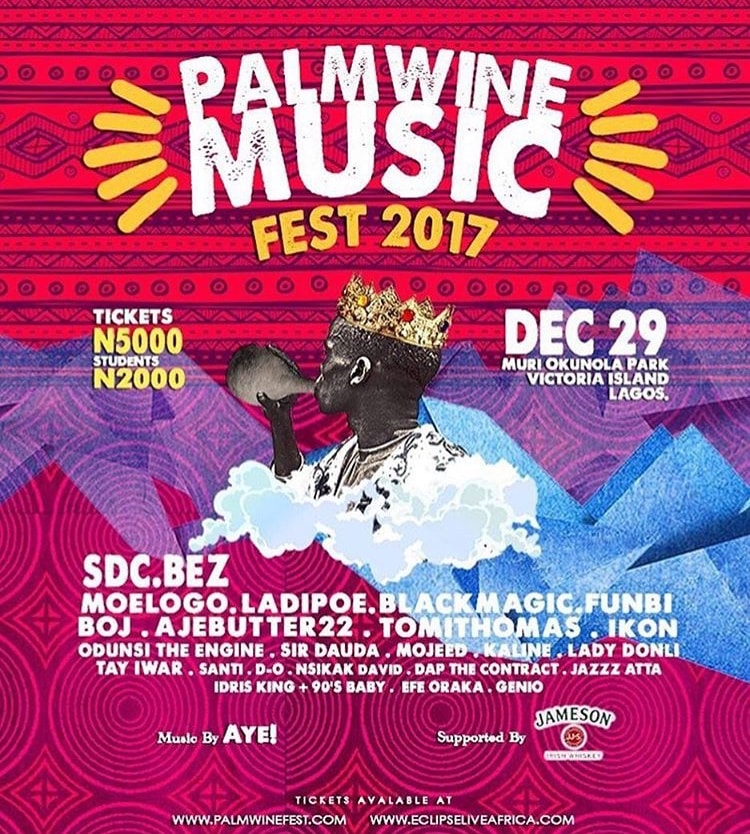 The Palmwine Music festival is an alternative music festival that celebrates authentic, organic,fresh African music and is a revolving festival aimed at introducing West Africa's music culture to the rest of the continent.
Date: 29 of December
Venue : Muri Okunola Park , V.I
Tickets : (student) N2000 , N5000
Tickets available : www.palmwinefest.com
FEEL THE MUSIC: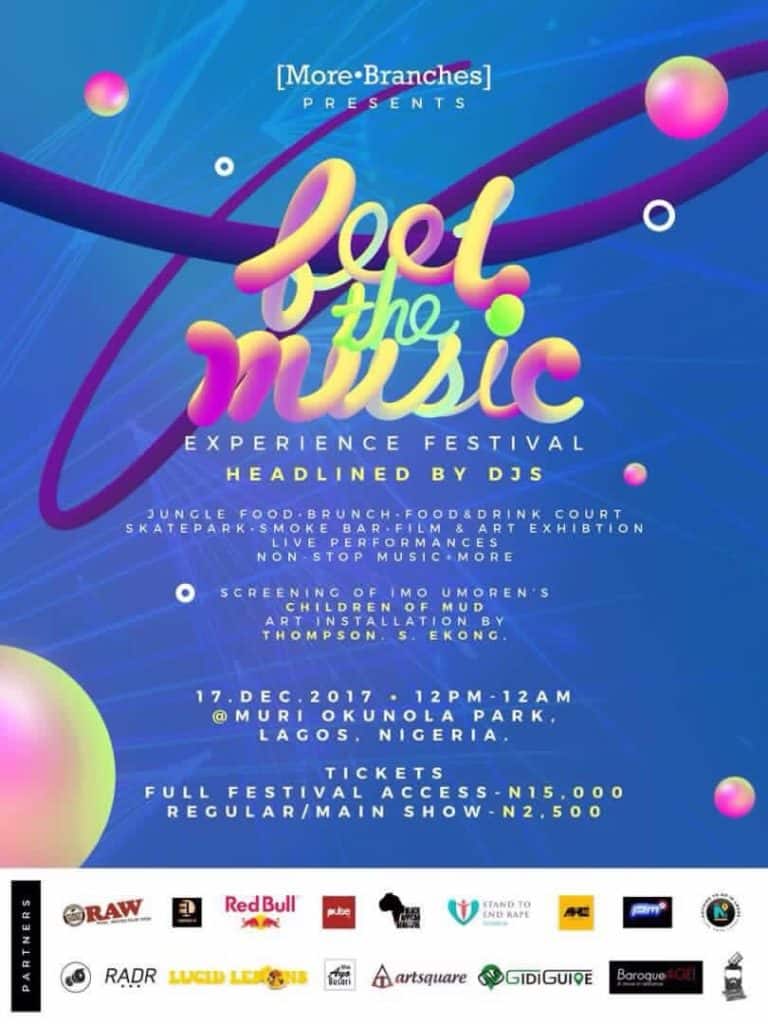 With Jungle Food , Brunch ,Food and Drink Court, Film and Art Exhibition,Live Performances, Non-Stop Music there is definitely not more to ask for than being there.
Art Installation by Thompson .S. Ekong
Date: 17 of December
Venue : Muri Okunola Park , V.I
Tickets : Full access : 15000 , Main show : 2500
SYTHWAVE:
An exhibition of light and sound!!!
Date :29th &30th December
Venue : WERE HOUSE 7B MIKE ADEGBITE AVENUE , LEEKI PHASE 1
Fee : N1000